Single beam crane end beam
Description
Technique Feature
Specification
Application scope
● Product Description:
Single beam end beam is Zhejiang Ou Rong Machinery Co., Ltd's design and production of a small light lifting equipment operating mechanism accessories which can be divided into: single beam crane end beam and double beam crane end beam.
Special rectangular tube a molding design, excellent workmanship, the surface by shot blasting, the surface smooth and beautiful;
Buffer start design, start and brake smooth over, the load will not shake, reduce the harmful inertia;
Both ends of the photoelectric limit switch design to ensure safe stop
Wheel
Wheel group using the module design, easy maintenance and replacement, wheel and bearing shaft with high quality alloy steel forging, processing, heat treatment, equipped with high life, high reliability of the bearings.
European type cranes have such design concepts as small dimension, light dead weight. Compared with traditional cranes, the limiting distance is minimum from hook to wall, and headroom is the lowest, which makes cranes work more close to the front, and lifting height more higher that increases effective working space of workplace.

New workshops can be designed more smaller and have more functions because the weight is light, and the wheel pressure is small. Smaller size workplace means saving a huge amount of money from initial construction investment, long-term heating, air conditioning and other maintenance free.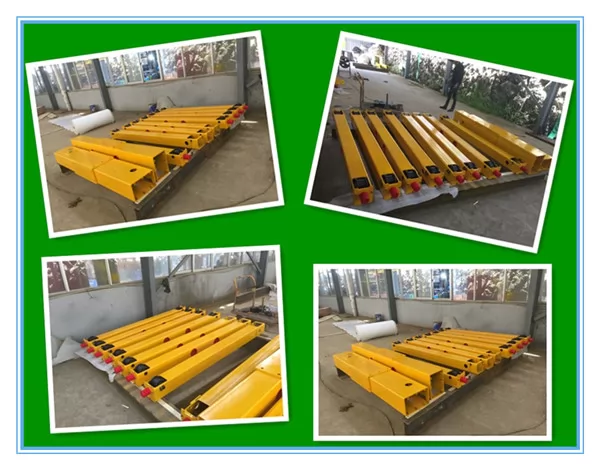 End beam as an essential part of the traditional hoisting system, continued for many years manual production,
Multi-cut, multi-welding, more splicing of the traditional process. We must affirm the traditional craftsmanship, rough production side
Type output of the end beam was once brought to the industry has brought development and prosperity; the other hand, with the development of a new era,
These old production processes, backward production ideas, rough production mode under the output of the end beam and its supporting
Products, are gradually being eliminated. Emerging processing technology, production ideas, technical requirements, highly customized side
Case, rich and selectable, is being more and more industry professionals and industry outside the picky customers
accept.
Similar to Zhejiang Ou Rong such industry pioneering enterprises, is developing new production technology, change the original
The beginning of the processing means, the introduction of automated processing equipment, integrated parts of high-quality supply of resources, the formation of a
Set of advanced processing. To achieve a mass, fine, customized product style, so as to meet
The most professional lifting and machinery industry manufacturers, the most discerning of the industry elite customers.
motor
Girder motor
Specifications: 0.25kw-2.2kw
Type: 0.25kw-2.2kw
Die-cast aluminum alloy shell, good heat dissipation;
Gear with low carbon alloy steel by carburizing quenching, low noise, high wear resistance, long service life.
Insulation class F, the maximum pressure of 1500V, strong power;
DC electromagnetic brake, brake safety. And with an external mediation brake device, easy to operate;
Lightweight, light weight, novel shape.
1, walking gear box
Triple structure
Gear material for the chromium molybdenum alloy, anti-wear bearings
CNC automatic gear machining center production, hardened surface (HRC60) after grinding treatment
Semi-grease lubrication, maintenance-free
2, reducer: shell with high tension with cast iron (FC25) manufacturing
Gear with alloy steel,
Accuracy is high, wear, impact resistance,
3, soft start device:
Start and brake are very smooth and smooth, heavy objects will not shake.
4, the motor part:
High performance, high torque, motor body easy to heat, small current, small size, strong output power, high frequency can be used.
5, electromagnetic brake:
Using DC brakes, braking force, bolts directly adjust the braking force, long life, high security, never fall off.
● wheels
Ball mill cast steel - good elasticity of small noise
Wheel surface hardening treatment
Small diameter, height reduced
Material: 42CrMo
Surface hardening treatment
Bearing NSK
Limit switch
Machine structure
● limit size is small, increase the effective working area
● reduce plant height, save construction costs ,Small Occupied Space
● small size, light weight,high working performance
● Easy Operation
● Safe and Reliable
● Low Operation and Maintenance Costs
● Product parameters and structure display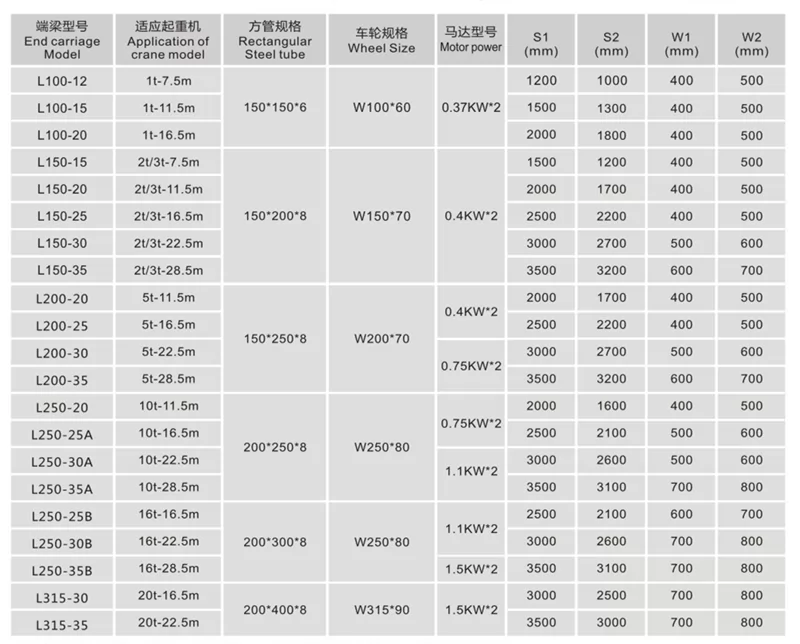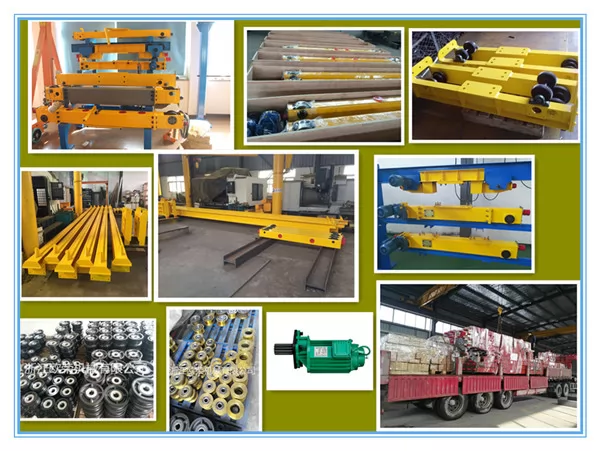 ● Manufacturing capacity display: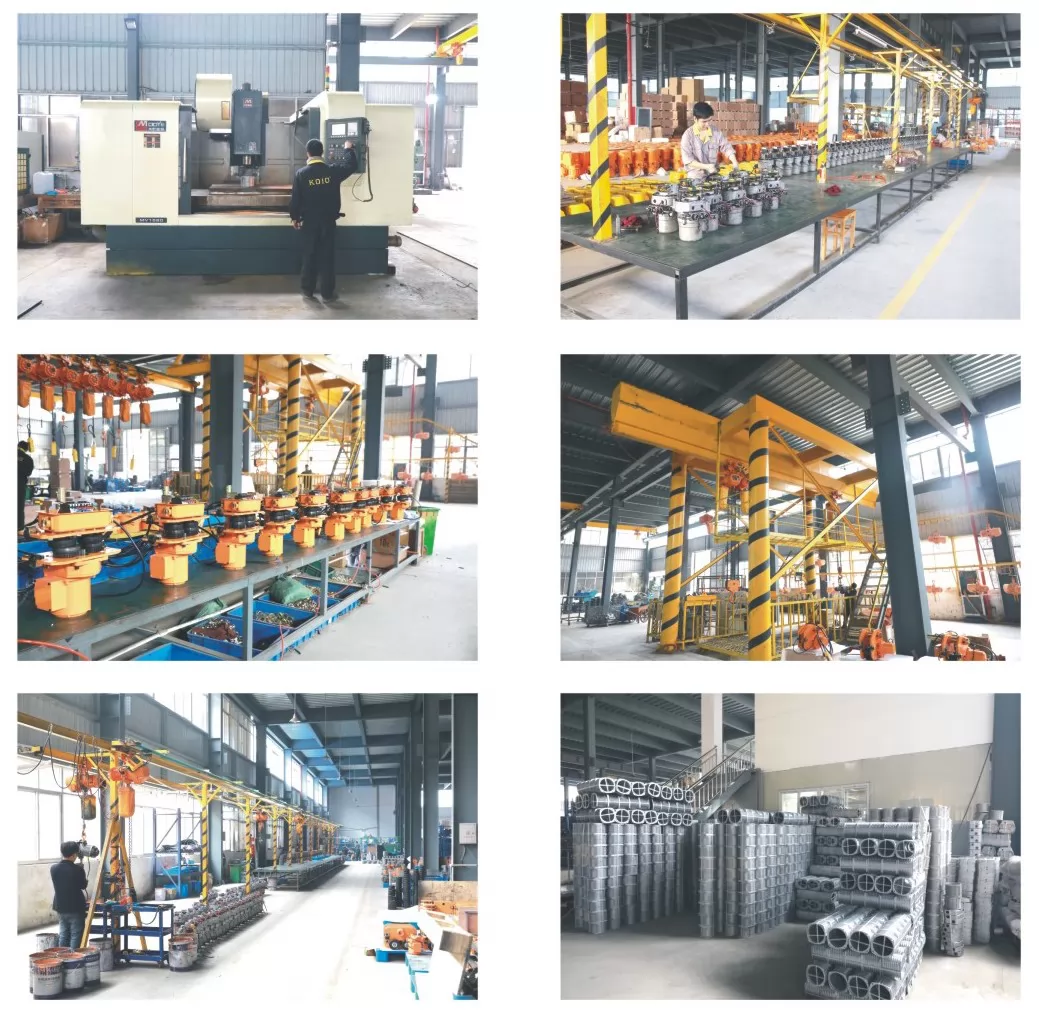 Bridge-type single beam is divided into puzzle, and one pipe, no matter what way the end beam production are inseparable from boring, milling, drilling, attack these processes. The traditional production methods need to be equipped with boring machines, milling machines, drilling machines
Processing equipment, the process is complex, and often can not avoid multiple clamping, production efficiency and accuracy are relatively extensive.
After the introduction of the production of end beams for the processing center, boring, milling, drilling, attack all in a process on all completed, a clamping, high-precision production, boring and milling accuracy of 0.1mm or less, greatly reducing the processing accuracy Not difficult to cause assembly difficulties, the replacement of spare parts difficult; reduced non-design friction caused by power loss and mechanical wear, reducing the long-term use of the failure rate, reducing energy consumption.
●Packaging & Shipping
Packaging Details:
Plywood Case(Composite Material Box)

Delivery Time:
7-10Days after receipt of the deposit

Payment terms:
30%(T/T) as deposit, the Rest 70%(T/T) Before Shipment
●After-Sale Service:
1. Guarantee Term: one year
2. After-sales team offer technology support anytime and anywhere
3. We are Alibaba Assessed Gold Supplier and could order by Trade Assurance.
4. We are a factory manufacturing hoisting products,best production capability ,best quality control, Best service .
5. Inspected by the Inspection Institution of Bureau Veritas Certification.
6. 100% QC inspection Before Shippment.
7. CE/GS listed,competitve price.
8. Prompt reply within 12 hours.
9.When Can I get the quotation?
We usually quote within 24 hours after we get your inquiry . If you are very urgent to get the price , please call us (400-8013-234) or tell us in your email so that we will regard your inquiry priority.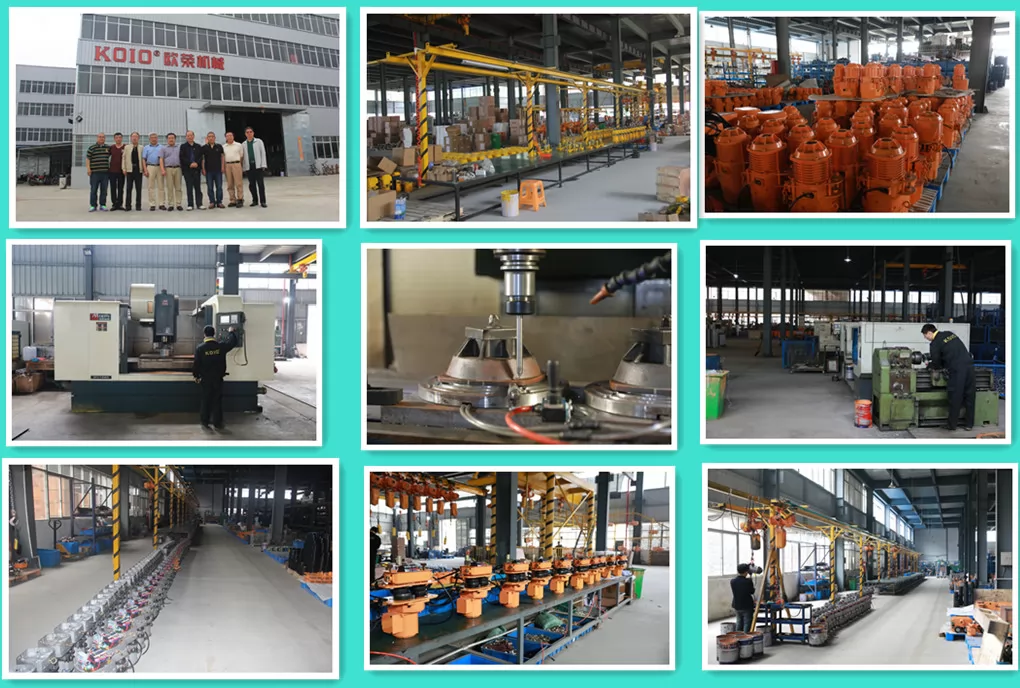 Wheel and gear motor as the main accessories on the end beam, we have been high-quality, more choice, to serve the domestic and foreign manufacturers of various cranes. In the Oulong crane, there is no double standard of export and domestic trade.
● Precautions
1, web page product pictures, introduction, packaging, retail price and all other information is for reference only, because the page on the product image for scanning or photographed, such as found in kind and page description slightly inconsistent, please prevail in kind.
2, due to changes in product information products manufacturers and the differences caused by the product parameters, please prevail in kind.
3, my company will be " intentions of quality, intentions of the future, intentions to create; sincere service in the community, to do high-end cranes " to provide customers with fast and timely, thoughtful and perfect after-sales service.
Note: Because this product is a large commodity, such as customers are not particularly urgent, we do not recommend the use of express delivery. Suggested use of logistics. Huayu logistics, good Ji logistics, Debon logistics, security to logistics, family logistics and other logistics companies and I have a long-term relationship.
● Qualification and honor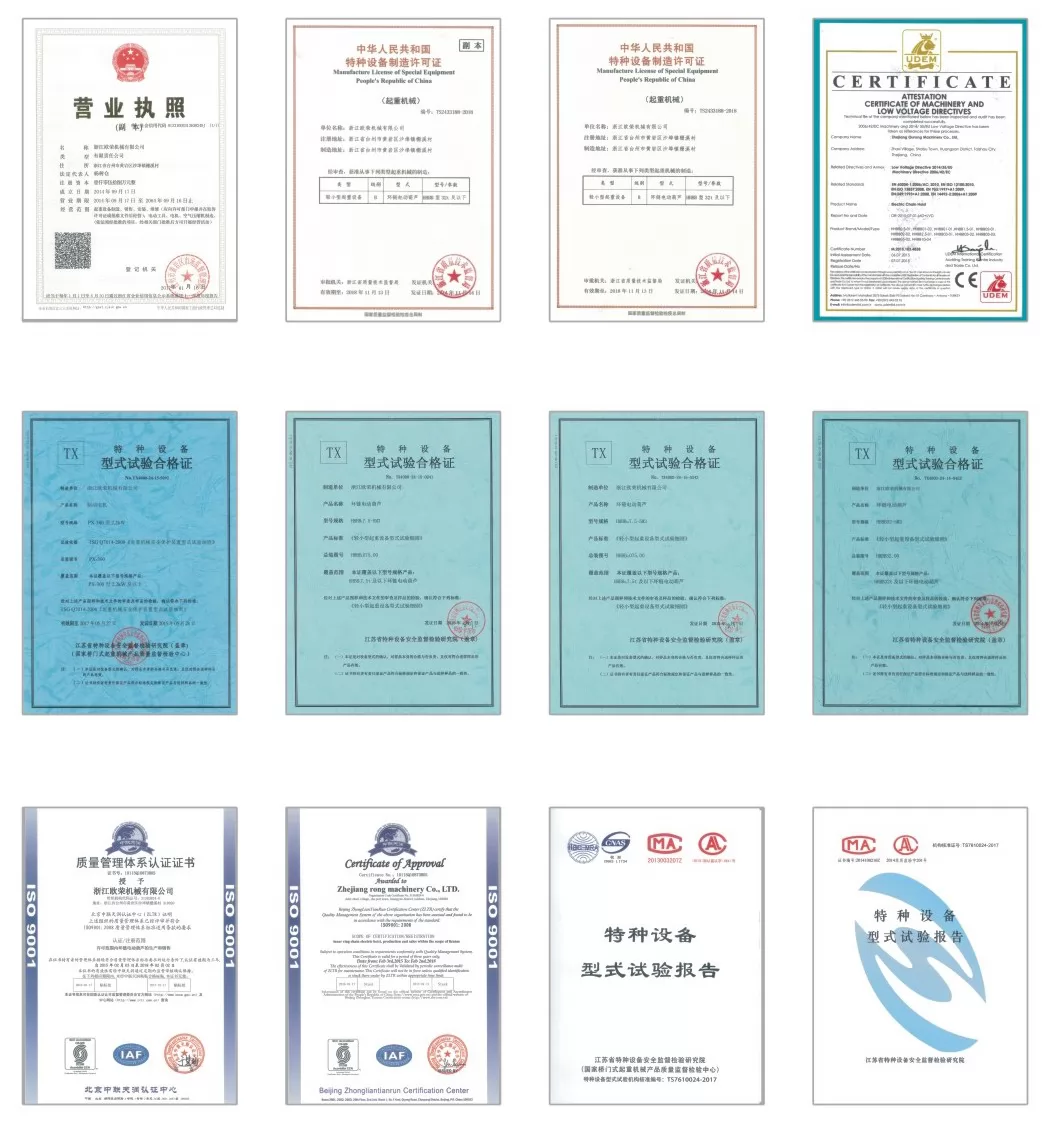 Hot words :
crane end beam