Fixed 2T high quality light and small chain electric hoist HHBB02-01S
Description
Technique Feature
Specification
Application scope
●Product Description:
Electric chain hoist is made of Zhejiang Ou Rong Machinery Co., Ltd. design and production of a small light lifting equipment.
this product is consists of the motor, transmission and sprocket composition.
From the weight of 0.3-32 tons, lifting height of 3 to 120 meters.
the chain shall adopt the imported FEC80 ultra heat-treatable alloy steel chain.
Our electric hoist can apply in a wide range, in workshops, warehouses, wind power, logistics, terminals, construction and other occasions. This electric hoist and single and double beam crane, jib crane, gantry crane which can be used for lifting or loading and unloading cargo, can also be used for precision molds installation and maintenance. Operators use the button to follow the manipulation of the ground, can also be manipulated in the control room or the use of wired (wireless) remote control. This electric hoist can be used in a fixed suspension, but also with electric monorail car and hand push / hand monorail car walk to use.
Over the years, KOIO Japanese-style electric chain hoist have a good sales. including the Yangtze River Delta and the Pearl River Delta region, including more than 30 domestic provinces and autonomous regions, with high praised by users.
● Features :
*Sheel:
1. The KOIO Electric Chain Hoist is made of light aluminum alloy shell, light but hard.
2. With cooling fin, easy and quick Bring the Heat out.

* Break System:
1. Side Magnetic Braking Device, Ensure lock the hoist
2. Mechanical braker, Dual braking system, much more safety.

* Limit Switch:
With up & down Limit Switch, to prohibit the chains from exceeding for safety.

* Chain:
FEC G80 Chain, Origina imported from Japan. Anti-Rust and Anti-corrosion

* Electromagnetic contactor:
1. With Schneider Electric (TESSIC), can be used safely under high frequency.
2. Can be installed Variable-Vrequency Drive (VFD Electric) Can be suitable for Singlle Phase Power supply.

* Inverse phase sequence protecting device:
It is sepcial electrical installation which controls the circuit not to work in case of wiring error in the power supply.

* Gear:
The gear made of alloy steel, Through the heat treatment.

* Level of Protection Grade(IP Grade):
1. Hoist IP Grade: IP54
2. Push Buttom IP Grade: IP65

* Power supply:
All kinds of voltage can be custom-made. 200V-660V, 50HZ/60HZ, 1P/3P

* Working Grade:
M4/1Am
● Product parameters and structure display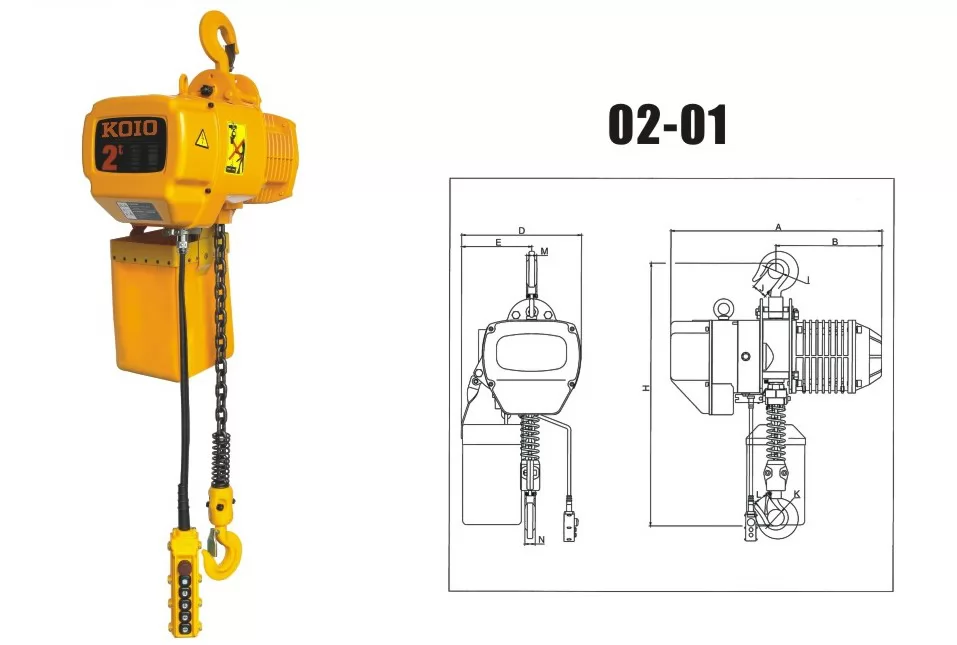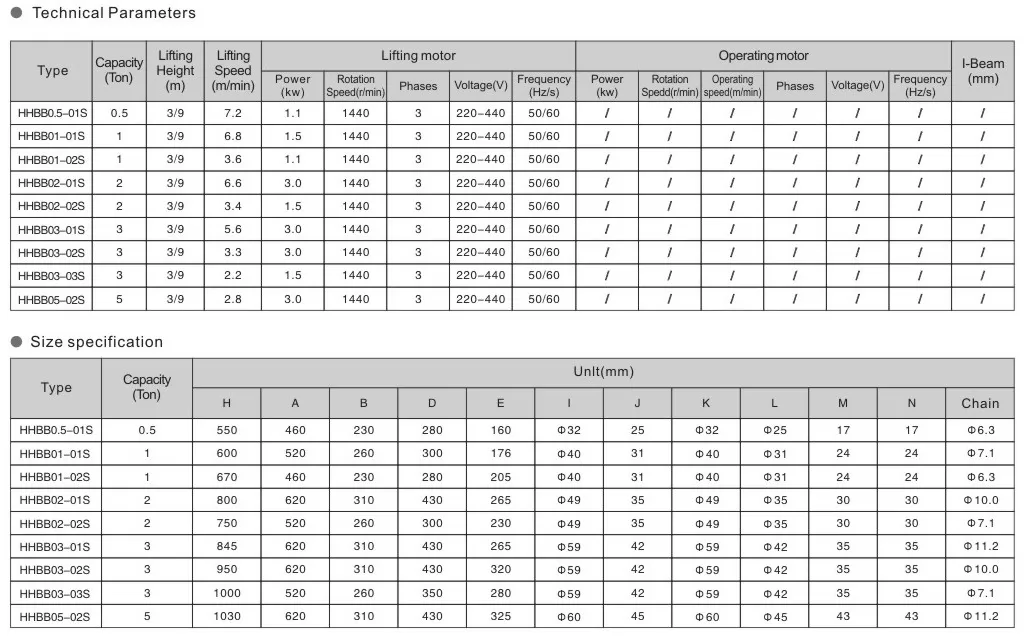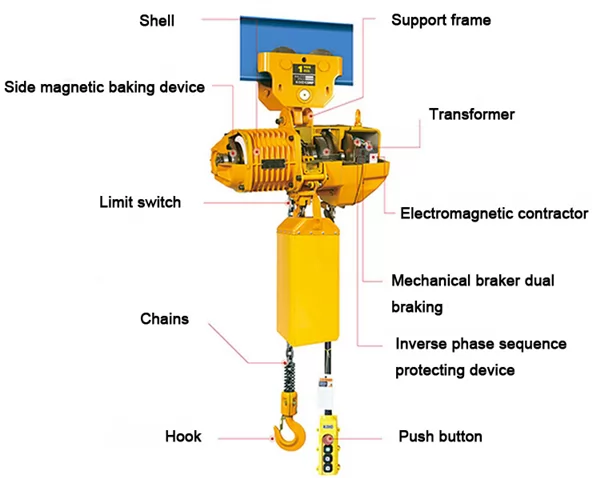 Technical Specification

1t Electric Chain Hoist With Hook Type — HHBB02-01S

Model

HHBB0.5-01S

HHBB01-01S

HHBB02-01S

HHBB03-01S

Capacity(t)

0.5

1

2

3

Standard Lifting Height(m)

3

3

3

3

Lifting Speed(m/min)

6.8

6.6

6.6

5.4

Lifting Motor

Power(kw)

0.75

1.5

3

3

Rotation Speed
(r/min)

1440

1440

1440

1440

Phases

3

3

3

3

Voltage(v)

200-660

200-660

200-660

200-660

Frequency(Hz)

50/60

50/60

50/60

50/60

Load Chain Falls

1

1

1

1

Chain Specification

Ø6.3

Ø7.1

Ø10.0

Ø11.2

Test Load(t)

0.625

1.25

2.5

3.75

Weight(kg)

47

61

115

122

I-Beam(mm)
(Electric Trolley Type)

58-153

58-153

82-178

100-178

Chain Add Weight Per Meter(Kgs)

0.81

1.1

2.3

2.8
●Packaging & Shipping
Packaging Details:
Plywood Case(Composite Material Box)

Delivery Time:
7-10Days after receipt of the deposit

Payment terms:
30%(T/T) as deposit, the Rest 70%(T/T) Before Shipment
●After-Sale Service:
1. Guarantee Term: one year
2. After-sales team offer technology support anytime and anywhere
3. We are Alibaba Assessed Gold Supplier and could order by Trade Assurance.
4. We are a factory manufacturing hoisting products,best production capability ,best quality control, Best service .
5. Inspected by the Inspection Institution of Bureau Veritas Certification.
6. 100% QC inspection Before Shippment.
7. CE/GS listed,competitve price.
8. Prompt reply within 12 hours.
9.When Can I get the quotation?
We usually quote within 24 hours after we get your inquiry . If you are very urgent to get the price , please call us (400-8013-234) or tell us in your email so that we will regard your inquiry priority.
●Manufacturing capacity display: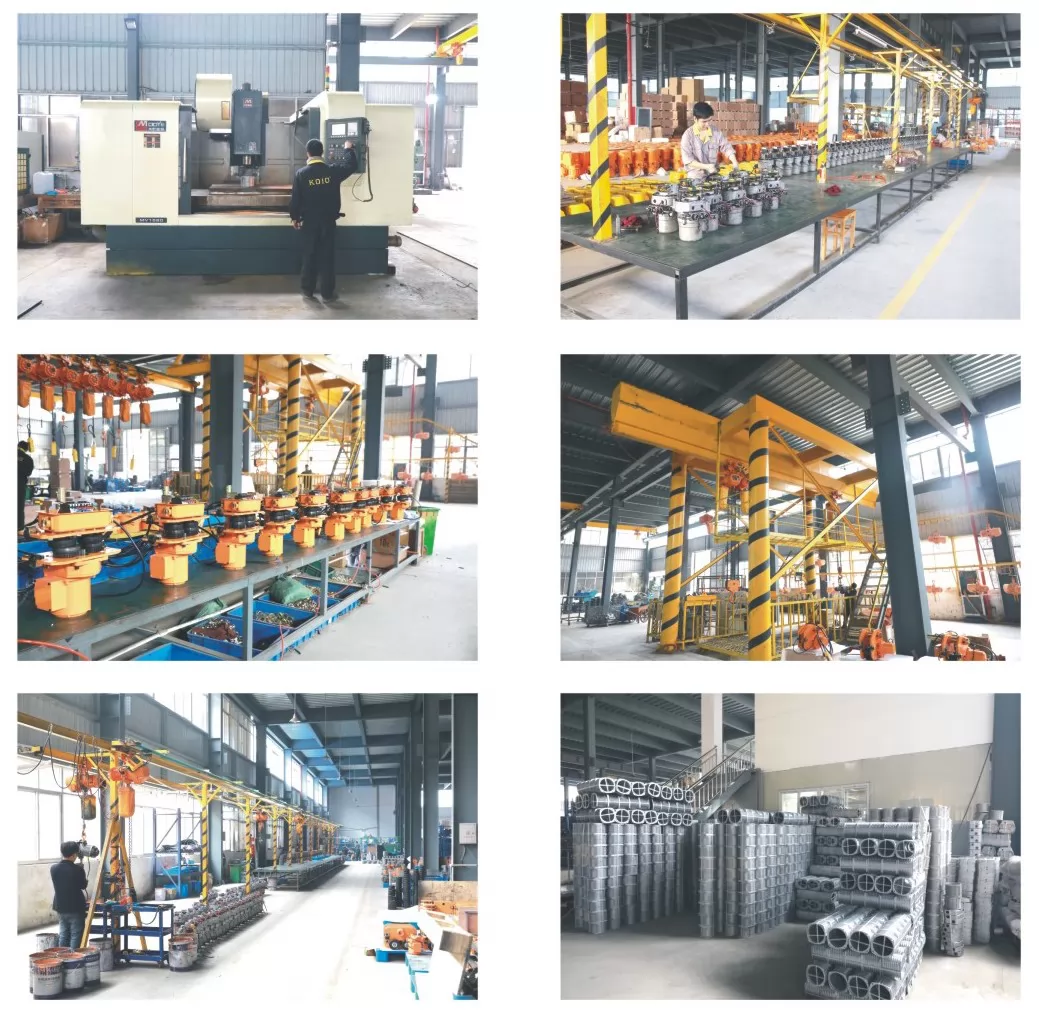 After-Sale Service:
1. Guarantee Term: one year
2. After-sales team offer technology support anytime and anywhere
why choose us?
1. We are the original manufacturer.
2. Abundant professional experience in export Lifting Equipments,
3. Competitive price and the first class service
● Precautions
1, web page product pictures, introduction, packaging, retail price and all other information is for reference only, because the page on the product image for scanning or photographed, such as found in kind and page description slightly inconsistent, please prevail in kind.
2, due to changes in product information products manufacturers and the differences caused by the product parameters, please prevail in kind.
3, my company will be " intentions of quality, intentions of the future, intentions to create; sincere service in the community, to do high-end cranes " to provide customers with fast and timely, thoughtful and perfect after-sales service.
Note: Because this product is a large commodity, such as customers are not particularly urgent, we do not recommend the use of express delivery. Suggested use of logistics. Huayu logistics, good Ji logistics, Debon logistics, security to logistics, family logistics and other logistics companies and I have a long-term relationship.
●Qualification and honor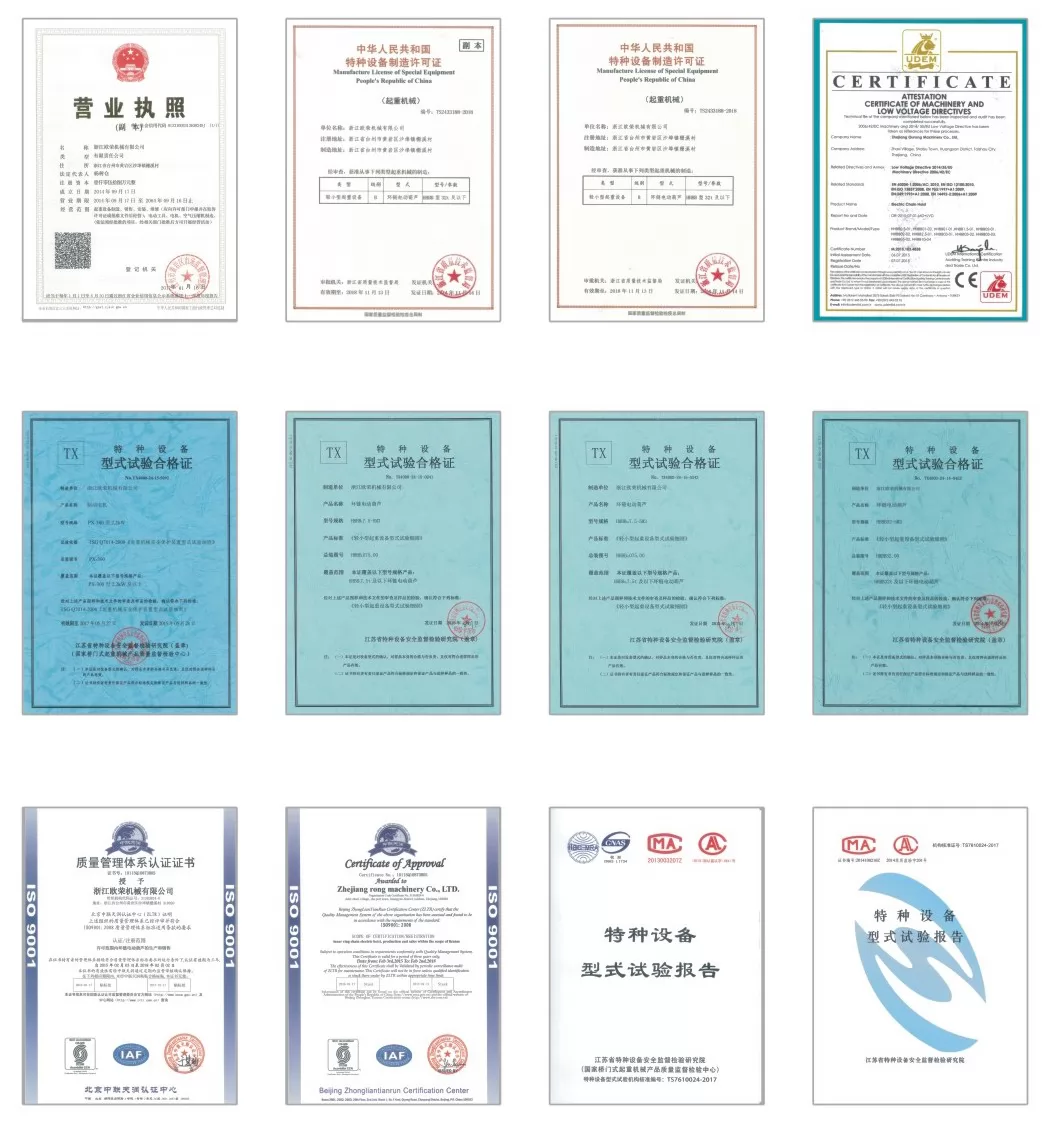 Hot words :
High quality electric chain hoist